Loving God, Loving People, Building Community By Serving Both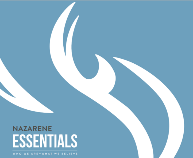 You can find out more on the history, beliefs, and theology of the Church of the Nazarene by clicking on the icon of "Nazarene Essentials" below

.

We have 16 Core Articles of Faith

1. The Triune God
We believe in one God, the Creator of all things who reveals himself as Father, Son, and Spirit.
Gen. 1:1-2, "In the beginning God created the heavens and the earth. Now earth was formless and empty, darkness was over the surface of the deep, and the Spirit of God was hovering over the waters."
2. Jesus Christ
We believe in Jesus Christ, who is fully God and fully man at the same time, who became like us to bring about our salvation.
John 1:1, 14, "In the beginning was the Word, and the Word was with God, and the Word was God...The Word became flesh and made His dwelling among us. We have seen His glory, the glory of the One and Only, who came from the Father, full of grace and truth."
3. The Holy Spirit
We believe in the Holy Spirit, who is active in the world, bringing us to salvation.
John 14:16-18, "I will ask the Father, and He will give you another Counselor to be with you forever--the Spirit of Truth...you know Him, for He lives with you, and will be in you."
4. The Holy Scriptures
We believe that the Bible is the Word of God, giving us all we need to know about how to be saved.
2 Tim. 3:16-17, "All Scripture is God-breathed and useful for teaching, rebuking, correcting, and training in righteousness, so that the man of God may be thoroughly equipped for every good work."
5. Sin, Original and Personal
We believe that we are all born with the sin nature and have each sinned in deed. We need to know how to be saved.
Romans 5:12-13, "Just as sin entered the world through one man, and death through sin, and in this way death came to all men, because all sinned--for before the law was given, sin was in the world.
Romans 3:23, "All have sinned and fall short of the glory of God."
6. Atonement
We belive that Jesus Christ died on the Cross and that by trusting in His death, we can be restored to a right relationship with God.
John 3:16, "For God so loved the world that he gave His only begotten Son, that whoever believes in Him shall not perish but have everlasting life."
7. Free Agency
We believe that God has enabled us to turn to Him from sin but does not force us to do so.
John 1:11-12, "He came to that which was His own, but His own did not receive Him. Yet to all who received Him, to those who believe in His name, He gave the right to become children of God."
8. Repentance
We believe that each person must repent, turn away from his or her sins, and trust God to accept him or her.
Acts 3:19, Repent, then, and turn to God, so that your sins may be wiped out, that times of refreshing may come from the Lord."
9. Justification, Regeneration, and Adoption
We believe that when we turn from sin and trust in Christ, our record of sin is wiped clean and we are born anew, becoming part of the family of God.
1 Joh 1:9, "If we confess our sins, he is faithful and just to forgive us our sins and purify from all unrighteousness."
10. Entire Sanctification
We believe that after being born anew, we need the fullness of God's Holy Spirit in our hearts. When we make a complete committment to Him, He cleanses our heart, fills us with His perfect love, and gives us the power to live victoriously over sin.
1 Thessalonians 5:23, "May God Himself, the God of peace, sanctify you through and through. May your whole spirit, soul, and body be kept blameless at the coming of our Lord Jesus Christ."
11. The Church
We believe those who confess Christ as Lord are committed to being equipped as believers for service to others. We believe our mission is to take the hope of the gospel to our community and our world.
Ephesians 4:11-12, "It was He [Christ] who gave some to be apostles, some to be prophets, some to be evangelists, and some to be pastors and teachers, to prepare God's people for works of service, so that the body of Christ may be built up."
12. Baptism
We believe in baptism as a public symbol and testimony of our inward committment. We urge people to become baptized when they become Christians.
Matthew 28:19, "Therefore go and make disciples of all nations, baptizing them in the name of the Father, and of the Son, and of the Holy Spirit, and teaching them to obey everything I have commanded you."
13. The Lord's Supper
We believe in the Lord's Supper as a reminder of God's love and sacrifice.
1 Corinthians 11:23-25, "The Lord Jesus took bread, and when He had given thanks, he broke it and said, 'This is my body which isfor you; do this in remembrance of me.' In the same way, he took the cup, saying 'This cup is the new covenant in my blood; do this, whenever you drink it, in remembrance of me.'"
14. Divine Healing
We believe God can and still does provide physical, mental, and emotional healing. We pray for healing. We also believe God can work through medical science.
James 5:14-15, "Is any one of you sick? He should call the elder sof the church to pray over him and to annoint him with oil in the name of our Lord. And the prayer offered in faith will make the sick person well; the Lord will raise him up."
15. Second Coming of Christ
We believe that Jesus Christ is coming again.
John 14:2-3, "In my Father's house are many rooms. I am going there to prepare a place for you. And if I go and prepare a place for you, I will come back and take you to be with me that you also may be where I am."
16. Resurrection, Judgment, and Destiny
We believe that everyone will face the judgment of God, with its rewards and punishments.
2 Corinthians 5:10, "We must all appear befor the judgment seat of Christ, that each one might receive what is due him for the things done while in the body, whether good or bad."